Peggy's Thank-You to All Who Attended John's Event
Click for CD Release Party Photo Gallery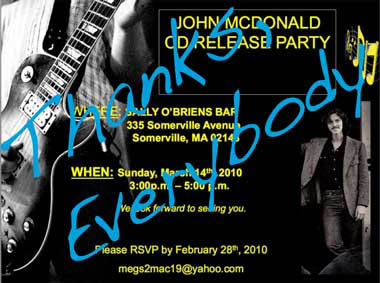 Hi everyone,
John and I, Travis, Ryan, and LIndsay wanted to thank each and everyone of you for making last sunday such a big success. We feel so blessed to have such a wonderful family and such good friends who came out in the pouring rain, street floods, horrible traffic and not the best parking to be with john. Guests traveled from Hawaii, Texas, Vermont, New Hampshire, New York and Cape Cod, etc. to be there. When I met many of you walking in the door – soaking wet and said that i was not sure you would make it, the answer was always the same – that you would not have missed coming to this celebration of john and his music for anything.
And what an effect on John! As many of you pointed out – John has not looked this good in years. He was happy, relaxed in this familiar musical venue and truly amazed at all the people who showed up. Many of you have asked – yes he is quite tired this week as he must have used up so much of his limited emotional energy to last all afternoon as he did. However if you saw his face when Ryan was giving his speech and thanking his Dad or when Travis was singing his songs you knew that this was a moment of a lifetime for John.
I wanted to let you know that between cd sales and donations you all helped raise $420 for the Huntington's Disease Society. This money will go to ongoing research to find a cure for HD. Virginia Goolkasian, who spoke at the event, just informed me that the HD national office has agreed to advertise the cd through its newsletter which should help our efforts to promote the cd.
Please continue to check out john's website at sweetmontana.com. Former Sour Mash Boy, Bill Henderson who created the site, has added an interactive page where you can make comments directly to john about the songs on the cd or anything. Soon, Bill will be posting some pictures from the party, so you may find a picture of yourself on the site. Let me know if you are leading a double life and need to remain annonymous. Next week we will begin selling the cds through the website. You will see a link to cdbaby the company that is handling the distribution. So if someone likes the music, please refer them to the website to purchase a cd. Keep us in mind for gifts throughout the year too! We will continue to donate 25% of all revenue from the sale of cds to HD.
Special thanks to the people who worked with me for months to make the cd, the website and the event last Sunday a reality – LIam Mannion who gave us Sally O's for the party, Larry Flint, cd planning and emcee, Bill Henderson – web design/ graphic consultant for cd, Judy Selednik- graphic design for cd, videographer, photographer and social butterfly at last week's party.
Again, we thank you each of you. We will keep all the goodwill and kind words in our hearts forever.
Love,
Peggy