Angel Midnight – Liner Notes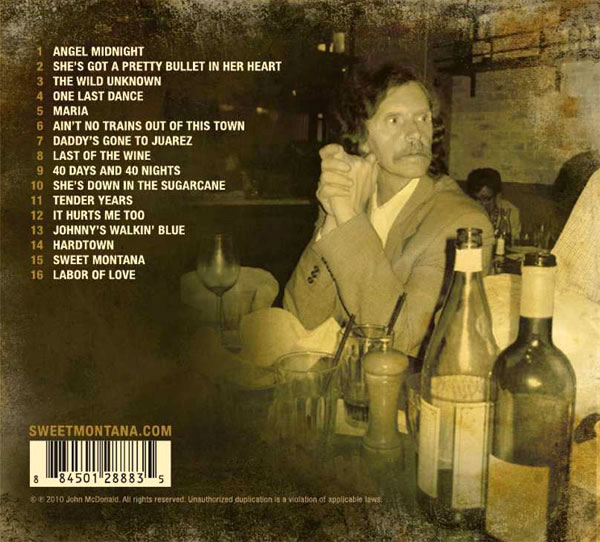 A Time, a Place
by Travis McDonald
(from his liner notes)
My earliest memories are of a wall of records.
When I was just a kid my father and his friend Shep, an Irish carpenter, built a music room in our house. The walls were lined with records that my father had collected since he was a kid, hundreds, if not thousands. He had at least two copies of every Beatles album.
I remember being about eight or nine and listening to Buffalo Springfield, The Lovin' Spoonful, The Rascals, and the Dave Clark Five, non stop. When I was about nine or ten, my dad bought me a Harmony-Stella guitar for Christmas. He taught me how to play Purple Haze, Layla, Stairway To Heaven and lots of old classics that I hadn't heard of at the time.
John Lincoln Wright and the Sour Mash Boys were always being discussed, though I didn't know till I was older exactly what that whole part of my parents' life was about. I grew up hating country music. I always wanted to hang out with my dad wherever he was going, but whenever we got in the car he'd put on Hillbillly At Harvard or some other country thing, and it drove me crazy. I listened to straight punk when I was in my teens, local bands like The Dropkick Murphys, Showcase Showdown and The August Spies. The only country I would listen to was Johnny Cash.
I remember when my dad was recording some of the songs for this album. Mostly the newer acoustic stuff like Washington County Line, Vagabond Moon, Daddy's Gone To Juarez etc. He set up a recording studio in our attic, which my brother and I would later make into our bedroom. The whole time he was recording, he hung a particular record in front of the console. The cover had a bright blue background and a guy on the front who seemed to come out from the sky. That album cover really struck a chord with me. I would find out later that the record was Gram Parsons' Grievous Angel, which my dad was obsessed with.
He was a big fan of Van Morrison, especially Astral Weeks, which he listened to every day for a month. He told me some albums change you forever. You remember the period when you listened to them the rest of your life. He didn't just listen, he said, he wanted to absorb them. And once he had, he'd put them away and never really listen again. They were too good, he said, too much a part of a time. Ever since, Astral Weeks has always belonged to that moment, that time of his life. And the same for Grievous Angel.
It must have gotten into his DNA, because all these years later, I'm as obsessed with Gram Parson's music as he was.
One Thanksgiving night I called my mother from my girlfriend's family's house in San Antonio and asked her what she was doing. "Watching the Paul McCartney concert from New York," she said. My mother knows all of the Beatles' birthdays (Paul McCartney and my father have the same birthday), but she was raving about this new band called the Avett Brothers, asking if I'd heard them yet, because she and my dad had just gotten into them and were going crazy about them.
And that's kind of the way it is with my parents and me. Music is the big thing. It's everything.